'In Search of Soledad'

Winstanley Schtinter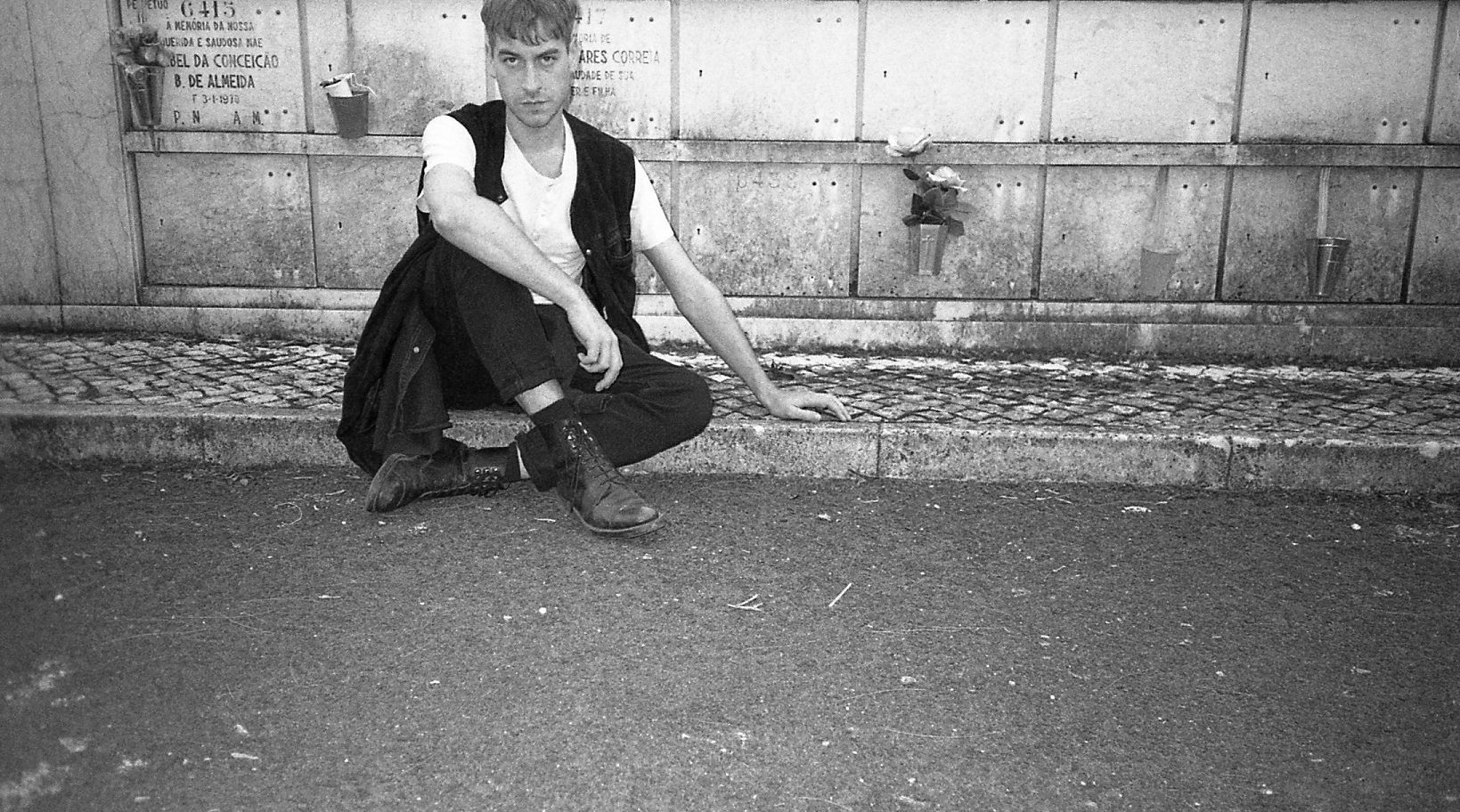 Ahead of the commencement of
A Worm's Tail View is Often the True One—the most complete retrospective of
Pere Portabella's films to date (curated by Schtinter on behalf of THE LIBERATED FILM CLUB)—Hotel
presents an essay written as preface to the program's inaugural event; a screening of
Portabella's
Vampir-Cuadecuc

(1971) and
Acció Santos (1973) at London's

ICA

on November 26th (see

here

).
Made in Spain during General Franco's rule,
Vampir-Cuadecuc
was filmed on the set of Jesus Franco's shocker
El Conde Dracula (1970) starring Christopher Lee, Herbert Lom and Soledad Miranda. Filmed in stark, heavily grained black and white, this atmospheric subversion of the "making of" documentary transforms the myth of the vampire into a powerful metaphor for a bloodthirsty fascism as epitomised by Franco and tyrants like him. Here we've Dracula as dictator—a spectral figure who feeds on his people and yet whose demise is certain. In 1296 words, Schtinter goes in search of the body of Soledad Miranda and finds, instead, the pin-code to eternity.
---
Daughter of Romani-Sevillian's and niece of famous singer and actress Paquita Rico, Soledad Miranda danced for money from a young age. Mid-career, in 1964 and 65, she released two seven inch vinyl records on the Belter label, the second of which includes 'El Color Del Amor' ("Sleep, the dream wears sometimes blue, which is the colour of love"), and a compelling cover of 'Chim-Chim-Cheree' from Mary Poppins. Miranda laboured for years to gain a foothold in the film industry, and after a slight sabbatical to look after her newborn son, returned to acting in 1969 as Lucy Westenra in Jesus Franco's El Conde Dracula; the terminal film from which Portabella's Vampir-Cuadecuc derives its immortality. To play Lucy and to work with a director like Franco was a marked departure from Soledad's strawberry-lace typecast of the decade, pre-empted only by her employment in the Hollywood western 100 Rifles (also 1969). Soledad appears alongside Burt Reynolds wrapped in a bed sheet. She is Mexican. She is abused. She pines after her abuser and is dragged from a hotel by future abusers. It is the only time in her career, in fact the only recording of her life, speaking English, that we hear her 'true' voice (and the production demands she use it to beg for money and sob).

Vampir-Cuadecuc is an antidote to this as the only moving imagery recorded of Soledad Miranda as her "true" self. It is too simplistic to suggest that Soledad in 100 Rifles and throughout the work of Jesus Franco is exploited. She dominates and carries the films. But the tendency of industrial cinema to treat women contemptuously prevents Soledad from really becoming on camera. Portabella's vision is the exception. One of so many virtues of Vampir is how he avoids—on the set of a Jesus Franco film—to capture any Jesus Franco images.
From the shadows in which Portabella's Vampir-Cuadecuc lurks, emerges a rich and polemic comment on exploitation in (Jesus' namesake, the General) Franco's Spain, by his dictatorship but also in film as an industry. It is an accusation and admission of abundant vampirism. With the exception of Miranda's co-star Christopher Lee reading the final lines of Bram Stoker's novel at the end of the film, none of the sound is synchronised with the images; images which are pushed almost to removal, densely saturated and in deliberate contrast with the "truth(s)" revealed on screen. Portabella finds the cast on set, but their performances; the film; the illusion is elsewhere ... the scream of mechanised construction sounds as the horse and carriage course across a courtyard, cut by the wet dream of an Old Compton Mackintosh. The character assumed to be Johnathon Harker is reduced to silence in exchange for a night at the guesthouse. Is it a dream or is it a nightmare? It is a car (a symbolism later brought to its towering conclusion by Juraj Herz in Ferat Vampire, in which the vampire is literally a sports car). Harker accurately dreams the commercial (towards the crash). The jackpot gloss of the bodywork hides pumps, plugs, nozzles and nipples of motion, recuperating the leaning trees and the breaking light that line the landscape's divide. Conveyer belts, climate crises. Picnics of the dark imagine; the hazards of motion presumed as passage. And then the magician's cut to a smile and a curtesy and the shattering truth of the "true" Soledad Miranda: I am bound by some ecstatic contract to go; to find her.

Summer 2014: Soledad Miranda would've been 70. Nobody knew the site of the crash. Nobody knew the hospital she was taken to, the location of her funeral. Nobody knew where she was buried. Her partner, José Manuel Simões, a bit-part actor and former racing car driver, was at the wheel when they crashed in 1970. He escaped physically unscathed. She died. The stretch of road, a high-speed grave-trail between Estoril and Lisbon, became too crowded for more vehicles to follow that predetermined route to destruction. It is today the site of a Vegas-styled dementia garden and a deserted hotel. A symbolic stream steers through the astroturf and stops before the new road and an unconvincing harbour. Soledad was on her way to sign a major contract with Jesus Franco's producer at the Eden Theatre (former cinema, now hotel—built by the preeminent Lisbon architect, Cassiano Branco), on Avenida de Liberdade. When asked in an interview how she would spend the last day of her life, she responded, "By not thinking about it."
Winstanley Schtinter

to

Gabriela Soares

,
Email
July 18th
Update: hidden at the Spanish Film Archive in Madrid there is a film deemed "too dangerous" to see. It is a promotional short for the Lisbon tourism board, and it is how Miranda met José. Performing as a couple on a firing-squad-worthy tourist jaunt, the two exit down that same decisive road. I am convinced that the film's final cut (to black) is at the point they revisited those years later; the point the stream stops.


In the administration building of Hospital de San José (believed to be the receiving hospital of Soledad Miranda) there are stacks of boxes. On each box is printed a huge eye of Horus, which does nothing to relax my act as long-lost relative to the actress, seeking the site of her body 'and if possible, the autopsy report.' Hélder, an archivist at the hospital, does what he can to guide me through the boxes, but nothing shows up. I'm told to return the next day, only to be told then that "Hélder is away with an ophthalmological disease," and that nobody else in the office will find what I'm looking for.
Gabriela Soares

to

Winstanley Schtinter

,
Email
July 20th
Due to a lack of space, cemeteries in Portugal tend to push for a temporary grave instead of a permanent one. Some cemeteries have stopped offering permanent graves altogether. After three years (until 1999 it was five), the body is exhumed to check for decomposition of the soft tissue around the bones. If the bones are bare and ready, they must be moved: if not, back down they go for a few more years until the job is done.
At this point, if no one claims the bones they are considered abandoned and will usually be cremated, or, as was more common in the time of Vampir-Cuadecuc, be assigned a number and kept in a drawer. If someone accepts responsibility for the bones, they will either rent a drawer or keep them underground (according to the agreement that another body, or bodies, will have to be buried on top).
I drop the act, committing instead to a tour of each cemetery in Lisbon. By means of exclusion I decide that Lumiar Cemetery (Cemetery of Light) in the north of the city is the location. Stacks of drawers form the walls of the perimeter. I call for the gatekeeper and we find in the cemetery records a Soledad Miranda in the year of 1970, and her allocated number. Wandering the aisles I am reminded of a childhood anxiety: why pick flowers to die at a grave? Nevertheless, my bouquet is immaculate, profound, ridiculous. The drawers are small, some named, some flowers. Most, like Soledad's, only numbers. I trace with my finger and then with wax and paper the four digits of her anonymous allotment. "The real vanishes into the concept . . ." I have come to believe that this particular sequence of numbers is the pin-code to eternity.


Why Soledad's body was not repatriated to her native Spain remains unclear. We can reluctantly assume it is because nobody ever collected her.


She never saw Vampir-Cuadecuc.

Winstanley Schtinter (the artist formerly known as Stanley,

Stan Li

, and Satan Li Schtinter) is an artist, filmmaker and writer whose recent and forthcoming works include HOTEL BARDO, which Iain Sinclair has called "the last avant-garde anti-project at the end of time" (see here); NIDDER, a piece Schtinter was commissioned to make by heritage landscape organisations in North Yorkshire (he in turn passed on the commission to a brotherhood of Sufi Islamic musicians: to write and record a concept album about the area in the aftermath of its nuclear obliteration); FUNERAL OF DIANA PRINCESS OF WALES 2.0: the artist's word-for-word recreation of Princess Diana's funeral in Salford in 2018, "bound to supplant the 1997 event in the mind of everyone who was there" (Anna Aslanyan); and THE FESTIVAL OF GREAT BRITAIN AND NORTHERN IRELAND (Salford, 2019). Schtinter is also the founder of the anti-record-label (anti-everything) PURGE.XXX. He programmes film internationally and acts as 'keeper of the sacred flame' at Close-Up Film Centre in London (curating, convening and presenting the monthly ordeal, THE LIBERATED FILM CLUB). He is CE, MD and RD at MUSEO DE LA BOMBA, D

.O.D.I.H

. (The Directory Of Did It Happen) and P

.O.T.P.R.O.H.D.L.

(Peasants of The People's Republic of Hackney Defence League).
This essay is a lightly edited extract from a text originally written to accompany the Second Run DVD release of Portabella's

Vampir-Cuadecuc

(see

here

). Schtinter's LIBERATED FILM CLUB curates the most complete survey of Pere Portabella's work to date across London (and eventually Cambridge) from November 2019 until February 2020. See here for the full programme and to book tickets.

Images courtesy of Films 59 (©)
Headline image (Author's own, ©)