SELECTIONS from
NIGHTS OF POOR SLEEP
Rachael ALLEN
& Marie JACOTEY
Nights of Poor Sleep (Test Centre, 2017) is a collaborative publication from poet Rachael Allen and artist Marie Jacotey. Published to coincide with Jacotey's solo exhibition 'Morning Defeats' at Hannah Barry Gallery in autumn, 2017, the book is an extended series of responses and engagements between the two artists' work, showing a critical and creative engagement between the interconnected forms and processes of painting and poetry. Published in a limited edition run, and beautifully designed by Traven T. Croves, the book continues and expands Test Centre's engagement with interdisciplinary poetic practices and commitment to experimentation in poetry publishing. Nights of Poor Sleep is supported by Arts Council England, as the first publication in Test Centre's ACE-funded project exploring the interaction of poetry and visual art.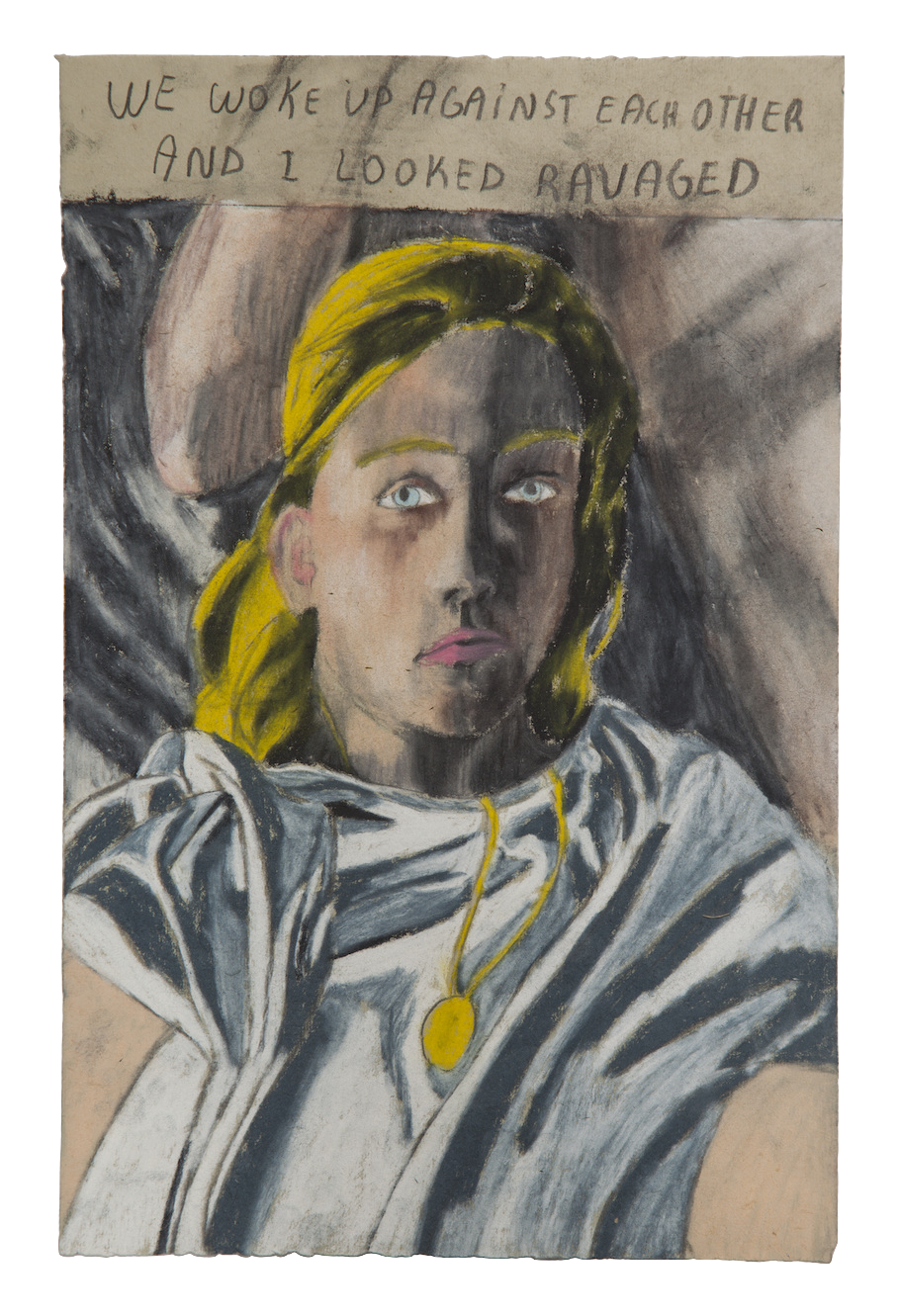 MORNING DEFEATS
I map a constellation
I am a cucumber
made entirely of water
like my face-down sister
made also entirely of water
we're so full of it
sailors topple off the deck
in wet and dusty mushroom hats
they look like mascots in a donut shop
cascading smiling past the portholes
with flags in their pockets
they would have been nice to take home
in my polka dot bikini
they just can't stop looking
at me
NO LAST KISS
Lilac keys to the shared front door
little lilac crystal on the shared keyring
lilac leaves of my drooping spider plant
moulting on the bath mat
so it looks like I've had my purple period

I wonder which one I might speak to first?
boys in the forest, police dog dad
bag-of-sticks body wrapped in plastic in the back garden
I lied to basically everyone

I played a ham-fisted stick-in-the-mud
let him stick it where the sun don't shine
played games and played pretending that we might want to pee on each other
let him watch my crocodile tears in the loo
played in the plain yellow wallpaper
while everyone tutted, needed to get on with their day
played in the long-grassed meadow
and it didn't feel as good as I thought it might
played at happiness in a night full of unimaginable grief
and it felt better than I thought it could

outside the windows hens click
scuttling around my feet like lizards
keep losing their legs and growing them back
and changing their names
and losing their spines
Rachael ALLEN is the poetry editor for Granta, co-editor at the poetry press Clinic and of online journal Tender. A pamphlet of her poems was published as part of the Faber New Poets scheme, and her first collection will be published by Faber in 2019. She is the co-author of Jolene, a collaborative book of poems and photographs with the artist Guy Gormley. She is currently studying for a PhD at the University of Hull.

Marie JACOTEY graduated with an MA in Printmaking from the Royal College of Art, London in 2013 after completing a DNSAD in 2011 from École Nationale Supérieure des Arts Décoratifs, Paris. Her work draws inspiration from the gathering of people together, the expression of emotions in their many and varied interactions and the contexts and details in which these engagements take place. Her works make use of perspectives that reference the world of cinema and slo-mo, the photographer's point and shoot, identifying an artist who has come of age in the smartphone world. Recent solo exhibitions include those at McQueen Project Space, London (2016), Francis Carrette Galerie, Brussels (2016), Hannah Barry Gallery, London (2015 and 2014), Robert Blumenthal Gallery, Hamptons, NY (2015), Heike Moras Art, London (2015), and Galerie du CROUS, Paris (2013). In 2014, her work was included in Bloomberg New Contemporaries. Her work can be found in the collection of the Victoria & Albert Museum, London, and she is represented by Hannah Barry Gallery, London.