MICROBURSTS ...
what we did not know;
lost wax casting;
& ghosts ...
Elizabeth REEDER;
Amanda THOMSON
Published by prototype, REEDER & THOMSON's microbursts is a collection of hybrid, lyric essays about the places between life and death; memoir and poetry; making and letting go. Originally written by Reeder as an intense text-based collection of lyric and experimental essays responding to the illnesses and deaths of her parents, it confronts the raw emotions of crisis, grief and creativity. Formally audacious, linguistically fluid, sensitive and intricate in its visual presentation, microbursts uses the potential and elasticity of the essay to explore intensely personal, yet universal, experiences and considers the ways in which we can express and communicate these through spatial and linguistic form.

See below for an interview with REEDER and THOMSON;
and below that, for an excerpt from the collection...
what we did not know
On some hills, where rocks balance on inclines, there is a point geologists call the angle of no strain. Rocks repose despite steepness because all conditions allow for rest. I sleep lying down, pace upright, and when I lean I need a wall or a chair or a person to lean against. During this first summer we dismantle a home and forget how to talk to each other. We nearly break up, more than once, and then it's autumn and we move from Scotland to Chicago carrying four items of luggage, which we hope will last the two years we'll spend there. Our new apartment is filthy, noisy and perfectly located for you to travel south and for me to travel north. Your train loops the Loop; mine goes to the end of the line and returns. We're a closed system and there's pressure from inside, and out, to break apart our vicious little circle.
lost wax casting
A wricht builds coffins and cabinets and all sorts of things out of wood and often needs other objects to complete the task: lock and key, hinge, clasp; something to line the inside of the box. Seamstress wordsmith wricht. A tree becomes a boat or a door; an old joist becomes a chair or something to place across the road for traction when the rains come on. In New Mexico, Walter De Maria forged lightning rods, needlesharp to seduce light and fire to the ground, and under his wooden table I place a single hand on your thigh and later there's a catching of hands as we walk through a lightning field with distant peaks creating and withholding stormclouds. Still later, here, our wedding band is plain, is what is turned and pressed and worried when in crisis, when in doubt, and home can be a foundry for if the band is lost or sold or melted down we are still left with the bond between us.

Genesis is a key pressed into butter, wax, something impressionable. It is clear like the bright call of waxwings as they trill from berry to branch in a clutch of days that can never be predicted. The beginning and the remembered. Remove it, cast it, palm it. Wait for the opportunity to put the key to use, and then pay attention as one surface communicates with another.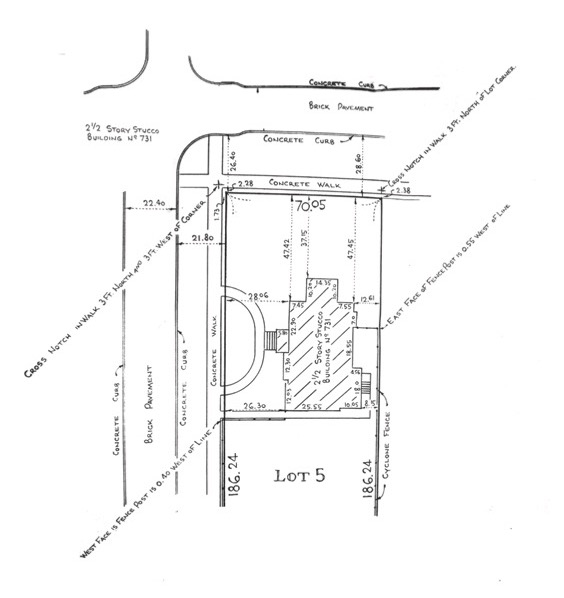 ghosts

On the edge of the lake sits a house, half built in depression, half in wealth. With the help of friends her dad raised it from the ground, with his bare hands, in hard times. But that was years ago and now it's the neighborhood eyesore on such a sought after piece of land beside the water. Storm surges beat at her door as her husband locks cupboards and opens drawers, inappropriately. Just before it's razed, I stand on the potholed driveway and can see right through the place, past closed drawers and open cupboards and out to the water. Two blocks away, at seven thirty-one, my mom is dizzy and my dad says he's doing fine but he often says, Honey could you just run and get this for me. This afternoon they've got what they need; I'm on my way home to our apartment and from the L tracks I see lakescapes and skyscrapers and flags flying at Wrigley Field and when I was fifteen my dad nearly died, the lake rose, and retreated, he came back and the lake the lake the lake in all seasons.

Elizabeth REEDER, originally from Chicago, now lives in Scotland. She writes fiction, narrative non-fiction and hybrid work that creates spaces between forms, subjects and disciplines. Her work explores identity, family, illness and grief, creativity and landscapes. She has published two previous novels, Ramshackle and Fremont, and her latest novel, An Archive of Happiness, was published by Penned in the Margins in September 2020. She is a MacDowell Fellow and a senior lecturer in Creative Writing at University of Glasgow. See elizabethkreeder.com.
Amanda THOMSON is a visual artist and writer who is also a lecturer at the Glasgow School of Art. Her interdisciplinary practice is often about notions of home, movements, migrations, landscapes and the natural world and how places come to be made, and she has exhibited nationally and internationally. She earned her doctorate in interdisciplinary arts practice, based around the landscapes and the forests of the North of Scotland, in 2013. She lives and works in Glasgow and in Strathspey. Her first book, A Scots Dictionary of Nature, is published by Saraband Books. See passingplace.com