Hotel

#3
Summer, 2017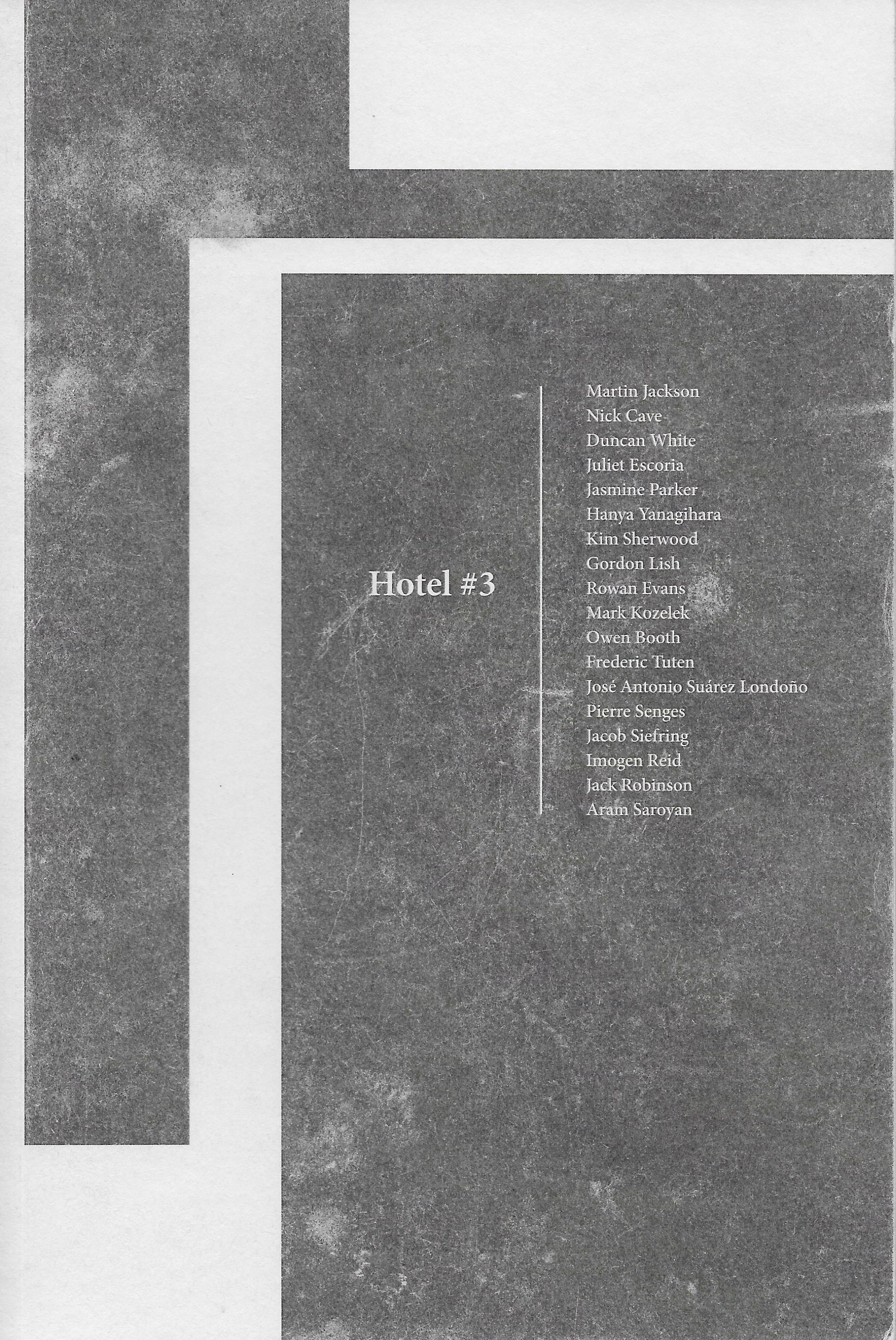 Hotel

#3 is now

sold out.

° Martin JACKSON,
'It's really very easy to do these days'
° Nick CAVE,
'Four Cities: Selections from The Sick-Bag Song'
° Duncan WHITE, 'After the Crash'
° Juliet ESCORIA, 'West Virginia to New York'
° Jasmine PARKER, 'Mass-Produced Poetry'
° Hanya YANAGIHARA,
in conversation with Hotel's Holly Brown
° Kim SHERWOOD,
'Travelling in Grey Space'
° Gordon LISH, Four Stories
'Didn't We Just Hear Something Human Fall?'
'Joke-Time, or that Other Word, Jape'
'Make Night: Heidegger'
'Bamford or Bust!'
° Rowan EVANS, Four Poems
'Ithaca'
'Seventy Two'

'Tourist Song'
'Hyrule Theory'
° Owen BOOTH, 'The War'
° Frederic TUTEN;
& José Antonio Suárez Londoño,
'July'
° Imogen REID,
'Waiting Rooms'
° Pierre SENGES, translated by Jacob SIEFRING,
'Selections from Études de Silhouettes'
° Mark KOZELEK,
'Common as Light and Love...'
° Jack ROBINSON, 'Eternal City'
° Aram SAROYAN, 'Initiator'
& an epigram from
Olivier CASTELL
Edited by Jon AUMAN, Thomas CHADWICK, John DUNN
& Dominic JAECKLE,
with Holly BROWN

Designed & Typeset by Niall REYNOLDS
Notes on Contributors,
in order of appearance



Martin JACKSON is a writer and artist based in Berlin. His 2014 project as 'writer in residence' of Google Maps was featured in 3am Magazine, Frieze, WIRED, Dazed and elsewhere. Last year he attempted to write a novel live in Google Docs, as featured in The Quietus. He received an Eric Gregory Award for his poetry in 2011. His photography began with bands and gigs in east London in the early 2000s, and his work has been shown in two small solo shows and two group shows in London. Currently, he is researching and writing about technologies of writing and creative production.

Nick CAVE is the lead singer of The Birthday Party, The Bad Seeds and Grinderman, Cave has been performing music for more than 30 years. He has collaborated with Kylie Minogue, PJ Harvey and many others. As well as working with Warren Ellis on the soundtrack for the film of The Road, an adaptation of Cormac McCarthy's novel, and The Assassination of Jesse James by the Coward Robert Ford (2007), he also wrote the screenplay for the film The Proposition (2005). His debut novel, And the Ass Saw the Angel, was published in 1989 and was followed by the internationally bestselling The Death of Bunny Munro in 2009. The Sick Bag Song, an exploration of love, inspiration and memory shaped around the events of Cave's 22-city tour tour of North America in 2014, was published in 2015. Born in Australia, Cave now lives in Brighton.

Duncan WHITE is a writer and research fellow at Central St Martin's School of Art and Design. He co-edited and co-authored Expanded Cinema: Art, Performance, Film, Tate Publishing, 2011.

Juliet ESCORIA is the author of the short story collection Black Cloud, which was originally published in 2014 by Civil Coping Mechanisms. In 2015, Emily Books published the eBook, Maro Verlag published a German translation, and Los Libros de la Mujer Rota published a Spanish translation. Witch Hunt, a collection of poems, was published by Lazy Fascist Press in 2016. Escoria is currently working on a novel based on the worst years of her life. She was born in Australia, raised in San Diego, and currently lives in West Virginia.

Jasmine PARKER is a designer and writer based in London. A recent graduate of Central Saint Martins, her work traverses a range of disciplines and experiments traversing an ambiguous realm between fiction and reality.

Hanya YANAGIHARA lives in New York City. She is the author of The People in the Trees (Atlantic Books, 2014) and A Little Life (Picador, 2015), which was shortlisted for the Man Booker Prize, 2015, the Baileys Prize for Women's Fiction, 2016, and a finalist for the National Book Awards, 2015.

Kim SHERWOOD's stories and articles have appeared in numerous journals, including Mslexia, Lighthouse, and Going Down Swinging. The manuscript of her debut novel, Testament, won the 2016 Bath Novel Award. She is a Senior Lecturer in Creative Writing at the University of the West of England. Kim is represented by Conville & Walsh.

Gordon LISH is well known for his Tupperware collection, various fractions of which have recently been exhibited in Bayonne, NJ, and Sherman Oaks, CA. He is even better known as the father of Atticus Lish, the author of Preparation for the Next Life.

Rowan EVANS is the author of returnsongs (Wide Range, 2012), freak red (Projective Industries, 2015) and ODE RHIZOME MOUNTAIN SONG (Moot Press, 2016). He received an Eric Gregory Award in 2015 and is a co-editor of Moot Press. Rowan composes and produces music for performance, theatre and film is artistic co-director of Fen, an interdisciplinary performance collaboration based in Bristol.

Owen BOOTH won the 2015 White Review Short Story Prize. He is currently working on at least three different short story collections.

Frederic TUTEN grew up in the Bronx. At fifteen, he dropped out of High School to become a painter and live in Paris. He took odd jobs and studied briefly at the Art Students League, and eventually went back to school, continuing to earn a Ph.D. in early 19th century American Literature from New York University.
He travelled through Latin and South America, studied pre-Columbian and Mexican mural painting at the University of Mexico, wrote about Braziliian Cinema Novo, and joined that circle of film makers, which included Glauber Rocha and Nelson Pereira dos Santos. Tuten finally did live in Paris, where he taught film and literature at the University of Paris 8. He acted in a short film by Alain Resnais, co-wrote the cult film 'Possession,' and conducted summer writing workshops with Paul Bowles in Tangiers.
Tuten's short stories, art and film criticism have appeared in such places as ArtForum,The New York Times, Vogue, Conjunctions, Granta and Harpers. In addition, he has written essays and fictions for artists' catalogues including John Baldessari, Eric Fischl, Pierre Huyghe, Jeff Koons, David Salle and Roy Lichtenstein. He has published five novels: The Adventures of Mao on the Long March; Tallien: A Brief Romance; Tintin in the New World; Van Gogh's Bad Café; The Green Hour; and most recently, Self Portraits: Fictions, a collection of stories.
Tuten received a Guggenheim Fellowship for Fiction and was given the Award for Distinguished Writing from the American Academy of Arts and Letters.

José Antonio Suárez LONDOÑO has been working with the utmost concentration for the past four decades, developing a vast repertoire of small-scale drawings, etchings, and prints. Despite his isolation, his meticulous, delicate, figurative drawing practice anticipated the work of a generation of Colombian artists, including Johanna Calle, Mateo López, and Nicolás Paris. Suárez was born in Medellín in 1955. In 1977, he graduated from the Universidad de Antioquia with a degree in biology. It was at this time that he began his disciplined and meditative artistic practice, mostly concentrating on printmaking, producing illustrations of miscellaneous subjects, such as portraits and botanic motifs combined with calligraphic text. Shortly thereafter, he enrolled at the École Supérieure d'Art Visuel, in Geneva, Switzerland, from which he graduated in 1984 with a degree in fine arts. Although he had already produced a consistent body of work, he found his signature process in the mid-1990s during a sojourn in Daytona, Florida, where he bought a small notebook and a black marker at a local Office Depot. While slowly reading Brian Eno's 'A Year with Swollen Appendices,' he began filling the notebook's pages with humble sketches in response. From this point on, his work would become a diaristic commentary on his literary interests and everyday activities — a visual synthesis that reflected his previous training in biology and his childhood obsession with the illustrated Larousse encyclopedic dictionary. In 1997, Colombian writer Héctor Abad Faciolince suggested to Suárez that they should work in tandem for a year, with Suárez producing a drawing a day illustrating his life in the form of a visual diary and Abad Faciolince responding in writing. Although this project never materialized, it initiated Suárez's most recognized body of work; since then he has been routinely producing yearly notebooks filled with eclectic drawings of objects, landscapes, portraits, textile patterns, reproductions of Old Master paintings, and color studies. Known as The Yearbooks, these notebooks function as a visual autobiography revealing his intimate thoughts and literary, artistic, and musical interests.

Pierre SENGES is the author of fourteen books and over sixty plays for radio. Many of his books and short texts are composed as variations and inversions on existing texts or historical figures. He is the recipient of prizes for Veuves au maquillage (2000), Ruines-de-Rome(2002), Achab (séquelles) (2015), and his radio work. Two of his novels, The Major Refutation and Fragments of Lichtenberg, are recently published in English translation, by Contra Mundum and Dalkey Archive Press, respectively.

Jacob SIEFRING is a Canadian-American translator and writer. His translations of Pierre Senges's writings have appeared in gorse, The Collagist, Sonofabook, The White Review,Brooklyn Rail, 3am Magazine, Numéro Cinq Magazine, Hyperion, and Music and Literature. His translation ofThe Major Refutation by Pierre Senges, a book refuting the existence of the Americas, is newly available from Contra Mundum Press.

Imogen REID completed a practice-based PhD at Chelsea College of Arts. She is a member of the Reader's Union at Copy Press.

Mark KOZELEK is an American singer, songwriter, guitarist, record producer and occasional actor, appearing in Cameron Crowe's critically acclaimed Almost Famous, Vanilla Sky, and as himself in Paolo Sorrentino's Youth. Initially a continuation of the now-defunct Red House Painters, Sun Kil Moon is now Kozelek's primary recording moniker, named after the Korean lightweight boxer "Sung-Kil Moon." Either as Sun Kil Moon, under his own name, or in collaboration, Kozelek has released over twenty records over the course of his twenty-year career as a solo artist. Select recent releases include Common as Light and Love are Red Valleys of Blood, Kozelek's latest record. Released February 24th, 2017, on Caldo Verde Records and Rough Trade, the double album was recorded in 2016 with drummer Steve Shelley. On May 27th, 2016, Mark Kozelek Sings Favorites was released through Caldo Verde. The album features guest singers Mimi Parker, Minnie Driver, Mike Patton, Will Oldham, and Rachel Goswell. The album includes favourite songs of Mark's friends and loved ones. On January 2016, Mark's collaboration with Justin Broadrick entitled Jesu/Sun Kil Moon was released via Caldo Verde and Rough Trade to positive reviews. Universal Themes, the 7th full length Sun Kil Moon Album, released in 2015. The album received some of Kozelek's best reviews. Benji, a sixth full length record by Sun Kil Moon, was released February 11th, 2014 and features guest musicians Steve Shelley, Will Oldham and Owen Ashworth. On August 20 of 2013, Caldo Verde released Mark Kozelek & Desertshore, the third record from Mark Kozelek and Phil Carney's side project, Desertshore. 2013 also saw the release of Like Rats, featuring an eclectic mix of covers ranging from Sonny and Cher to Bad Brains. At the same time, Mark also released two live albums and the Mark Kozelek and Jimmy Lavalle collaboration, Perils from the Sea. A hardback edition of Nights of Passed Over, a collection of Mark's lyrics originally published in a limited edition in Portugal in 2002, was also released in 2008. The book includes a preface by Mark and a 12-song rarities CD entitled Nights LP. The book is out of print.

Jack ROBINSON is a pen-name of Charles Boyle, editor of CB editions. 'Eternal City' forms part of An Overcoat, published by CBe in 2017.

Aram SAROYAN's recent books include Artists in Trouble: New Stories and a detective novel, Still Night in L.A. His word art was shown in the 2015 Kochi-Muziris biennial in India and the Hammer Museum's biennial "Made in L.A. 2016: a, the, though, only," for which he wrote the sub-title. His Complete Minimal Poems won the William Carlos Williams Award from the Poetry Society of America.

Olivier CASTEL usually presents work under heteronyms and has created over thirty different identities since 2001. Often using ephemeral or temporal forms, he works primarily with projections, reflective surfaces, light, text and audio. His work functions as a set of propositions, employing the imaginary and exploring the process by which something is made visible.
The issue was launched at Housman's Radical Booksellers, London, on August 24th, 2017, in collaboration with Little Island Press to celebrate both the release of

Hotel

#3 and the publication of Gordon LISH's White Plains: Pieces & Witherlings. The event was hosted by David WINTERS with readings from Claire-Louise BENNETT, Will EAVES, David HAYDEN and concluded with a pre-recorded lecturette from Gordon LISH himself, broadcast exclusively on this occasion.