Hotel

#2
Spring, 2017



° Holly PESTER, 'This big bit cradle'
° Wayne KOESTENBAUM, '#2 [elegant toplessness stoned in stairwell]'

° Mary Margaret RINEBOLD, 'Beige'

° Linh DINH, 'No Soup For You'
° Ingo NIERMANN, 'The Kapellmeister'

° Thom ANDERSENN, 'Statements'

° Julia DRESCHER, 'Collages

° Victoria MANIFOLD, 'Asleep'

° SJ FOWLER, 'Three Poems'
° Alice BUTLER, 'A Love Letter to a Klepto'
° Will EAVES, 'The Class of All Unthinkable Things'
° Nicole MAURO, from 'SUPERZER0IC'
° Amanda DeMARCO, 'Minor Episodes'
& an epigram from
Joshua T. HOWELL

Edited by Jon AUMAN, Thomas CHADWICK, John DUNN & Dominic JAECKLE

Designed & Typeset by Niall REYNOLDS
Hotel
#2 is now sold out.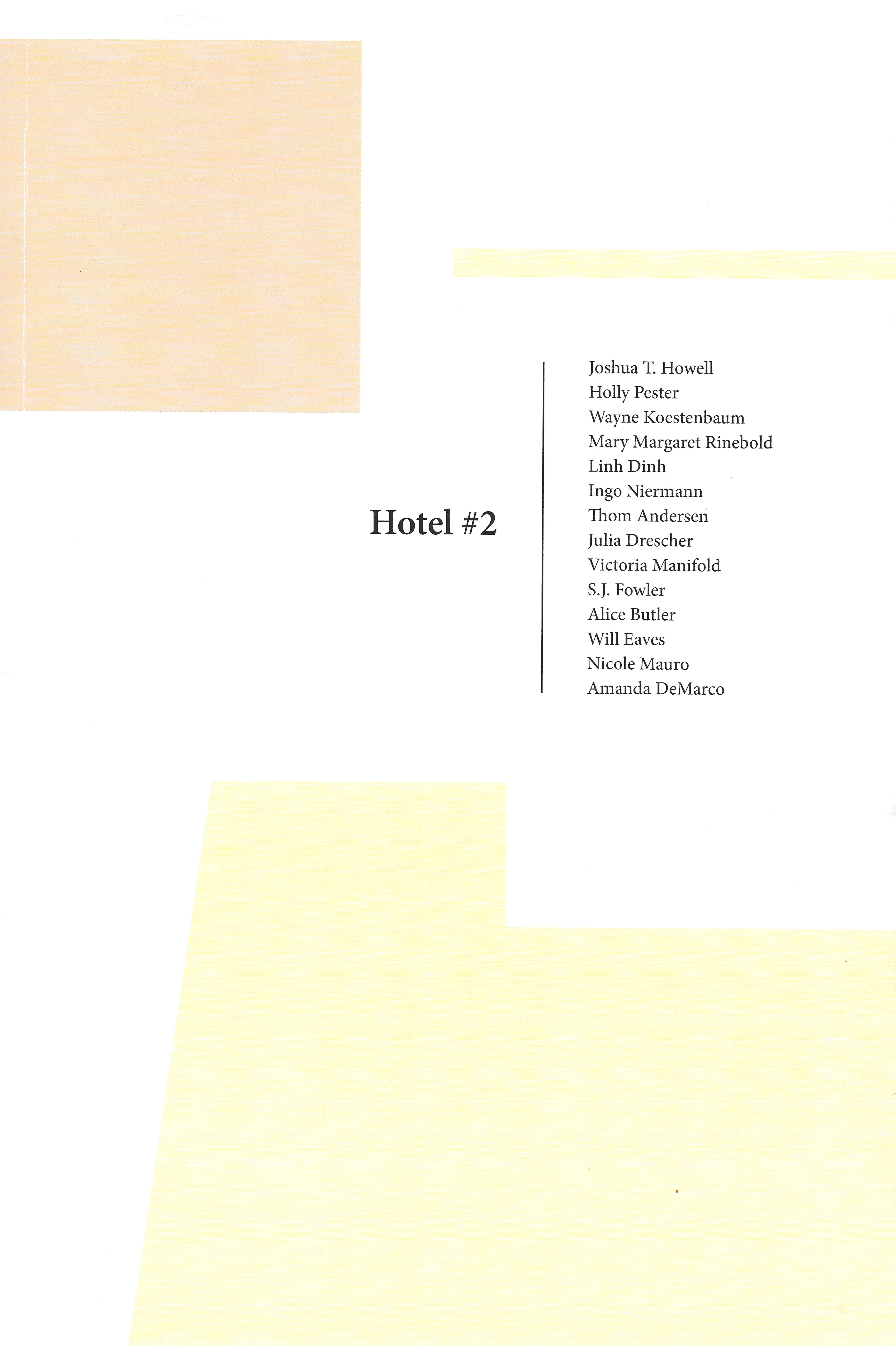 Notes on Contributors,
in order of appearance
Holly PESTER is based in London and teaches at University of Essex. She has a collection of poems and short-fictions called, go to reception and ask for Sara in red felt tip, published by Book Works (2014) and an album of collaborative sound works and accompanying poetry pamphlet, Common Rest, published by Test Centre, 2016.
Wayne KOESTENBAUM is a writer, artist, musician—he has published eighteen books of poetry, criticism, and fiction, including Notes on Glaze, The Pink Trance Notebooks, My 1980s & Other Essays, Hotel Theory, Best-Selling Jewish Porn Films, Andy Warhol, Humiliation, Jackie Under My Skin, and The Queen's Throat (a National Book Critics Circle Award finalist).
Mary Margaret RINEBOLD is a writer and art critic based in London and France.
Linh DINH is the author of three books of fiction, three of poetry, three of translation, and the just released Postcards from the End of America. He is a political columnist for the Unz Review.
Ingo NIERMANN is a writer and the editor of the speculative book series Solution and The Future of Art. His debut novel Der Effekt was published in 2001. Recent books include Solution 257: Complete Love, Solution 264–274: Drill Nation (2015), Concentration (ed., 2015), David Lieske: I Tried to Make This Work (2015), Solution 247-261: Love (ed. 2013), and Choose Drill (2011). In cooperation with Haus der Kulturen der Welt [Berlin], Niermann started the international digital publishing project Fiktion (fiktion.cc).
Thom ANDERSEN has lived in Los Angeles for most of his life. In the 1960s, he made short films, including Melting (1965), Olivia's Place (1966), and --- ------- (1967, with Malcolm Brodwick). In 1974 he completed Eadweard Muybridge, Zoopraxographer, an hour-long documentary film about Muybridge's photographic work. It was restored by the UCLA Film and Television Archive in 2013 and named to the U.S. National Film Registry in 2015. In 1995, with Noël Burch, he completed Red Hollywood, a critical video essay about the film works created by the victims of the Hollywood Blacklist. Their work on the history of the Blacklist also produced a book, Les Communistes de Hollywood: Autre chose que des martyrs, published in 1994. This work has inspired many books and essays and is cited in many more. In 2003 he completed Los Angeles Plays Itself, a three-hour-long movie about the representation of Los Angeles in movies. It was voted one of the 50 best documentaries ever made in a Sight & Sound critics' poll and one of the best films of the decade 2000-2009 in Film Comment and Cinema Scope polls. In 2010, he completed Get Out of the Car, a short 16mm portrait of Los Angeles. In 2012, he directed Reconversão, an HD video about the work of Portuguese architect Eduard Souto Moura, the winner of Pritzker Prize in 2011. In 2015, he completed The Thoughts That Once We Had, a personal history of cinema loosely inspired by Gilles Deleuze's books on cinema, as well as a number of short films. His films and videos are distributed by LUX (London), arsenal institut für film und videokunst (Berlin), filmswelike (Toronto), The Cinema Guild (New York), and Grasshopper Film (New York). Over the past 12 years, there have 22 retrospective programs of his work. He has taught at the California Institute of the Arts since 1987, and was Los Angeles Filmforum programmer from 1994 to 1999.
Julia DRESCHER lives in Colorado where she co-edits Further Other Book Works with C.J. Martin. Some of her collages may be found at Likestarlings.com. Her most recent poems may be found in Entropy, Aufgabe, & 'Pider. Open Epic, a book of poems, is published by Delete.
Victoria MANIFOLD is a writer from County Durham. She was shortlisted for the 2016 White Review Short Story Prize and has been published by tNY Press, Swarm Literary and the Chapess, among others.
SJ FOWLER is a poet and artist. He works in the modernist and avant garde traditions, across poetry, fiction, theatre, sonic art, visual art, installation and performance. He has published multiple collections of poetry and been commissioned by Tate Modern, BBC Radio 3, The British Council and Wellcome Collection. He has been translated into 19 languages and performed at venues across the world, from Mexico City to Erbil, Beijing to Tbilisi. He is the poetry editor of 3am magazine, Lecturer at Kingston University, teaches at Tate Modern and the Poetry School, and is the curator of the Enemies project.
Alice BUTLER is a writer based in London, and a PhD researcher in Art History and Visual Studies at the University of Manchester. Her writing has been published widely in the art press, including Cabinet, Art Monthly, gorse and frieze.
Will EAVES is a novelist and poet. His most recent novel, The Absent Therapist, was shortlisted for the Goldsmith Prize in 2014. A new collection of poetry and prose, The Inevitable Gift Shop was published by CB Editions in 2016. He teaches at the University of Warwick and lives in Brixton, London.
Nicole MAURO has published poems and criticism in numerous journals, and is the author of The Contortions (Dusie Books, 2009), and Tax-Dollar Super-Sonnet Featuring Sarah Palin as Poet (Black Radish Books, 2014). In addition, she is the co-editor of an interdisciplinary book about sidewalks titled Intersection: Sidewalks and Public Space (with Marci Nelligan, ChainArts, 2008). She lives in Millbrae. CA, and teaches at the University of San Francisco.
Amanda DeMARCO is based in Berlin. She is an editor, translator, and founder of Readux Books.
Joshua T. Howell is an artist, living and working.