Hotel

#1
SEPTEMBER
, 2016
° Will EAVES, 'Greenery'
° Jon AUMAN, 'Two Introductions'
° Duncan WHITE, 'Selections from Pink Icecream'
° Tyler MALONE, 'Sometimes He Left Messages in the Street'
° Jane YEH, 'Selections from The Ninjas'
° Erica BAUM, 'An Accumulation of Information...'
° Matthew GREGORY, 'Rooms'
° Eley WILLIAMS, 'The Alphabet'
° Jess COTTON, 'Notes on the Pink Hotel'
& an epigram from Mat Riviere

Edited by Thomas CHADWICK, John DUNN & Dominic JAECKLE
Designed & Typeset by Niall REYNOLDS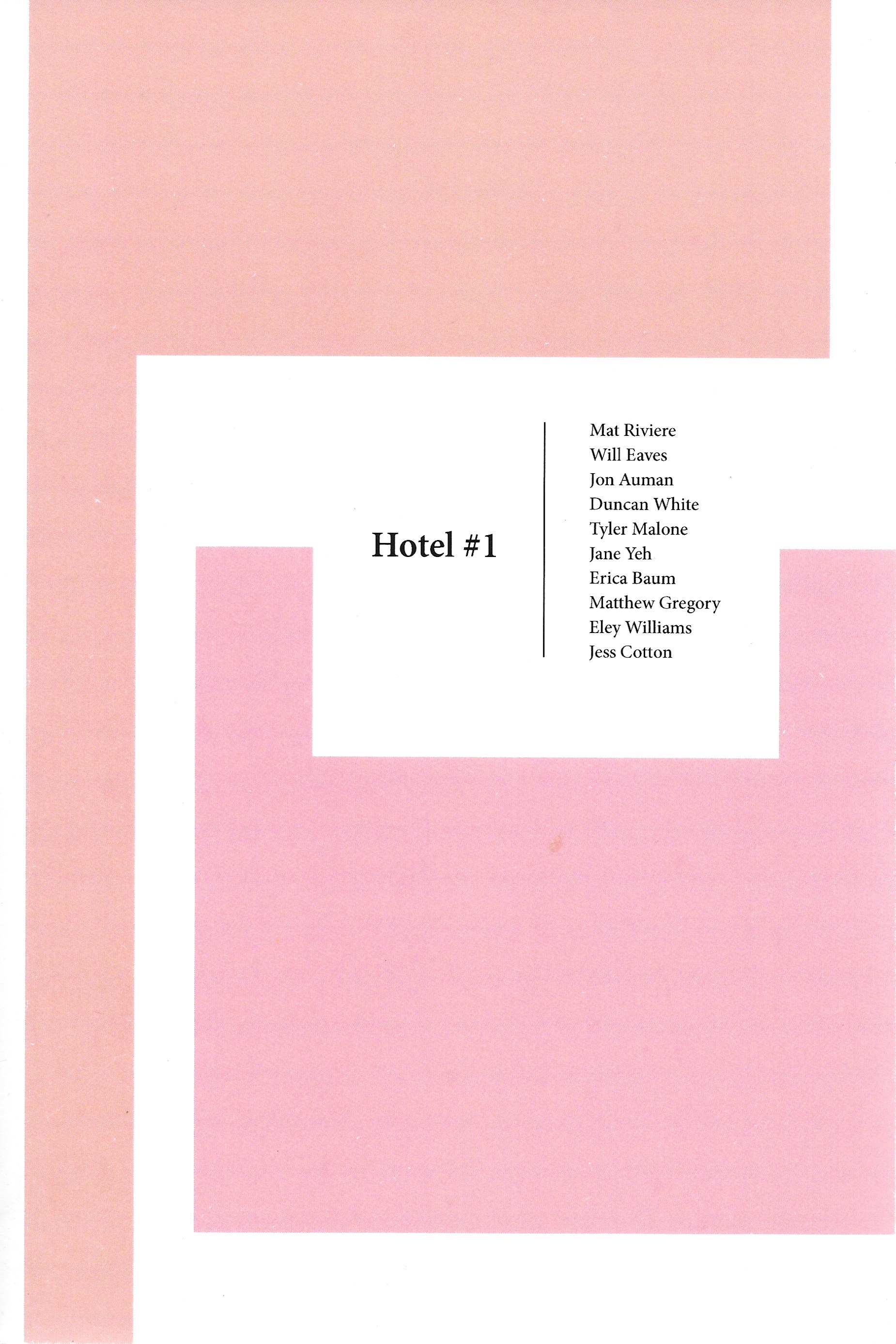 Hotel

#1 is now sold out.
The issue was launched at The Function Room, June 24th, 2016, with readings from Wayne KOESTENBAUM; Will EAVES, Eley WILLIAMS, Duncan WHITE & Matthew SIEGEL.
Notes on Contributors,
in order of appearance
Will EAVES is a novelist and poet. His most recent novel, The Absent Therapist was shortlisted for the Goldsmiths Prize in 2014. A new collection of poetry and prose, The Inevitable Giftshop, was published by CB Editions, 2016. He teaches at the University of Warwick and lives in Brixton, London.

Jon AUMAN is a writer renting in New York.

Duncan White is a writer and research fellow at Central St Martin's School of Art and Design. He co-edited and co-authored Expanded Cinema: Art, Performance, Film (Tate Publishing, 2011).

Tyler MALONE is a writer and Editor-in-Chief of The Scofield. For years he ran the Reading Markson Reading tumblr. His writing has appeared in The Huffington Post, The Millions, Full Stop, and elsewhere.

Jane YEH is a poet. Her second collection, The Ninjas, is available now from Carcanet.

Erica BAUM is an artist. She lives and works in New York. Recent solo exhibitions include The Paper Nautilus, Bureau (New York, 2014), and Erica Baum Kunstverein, Langenhagen (Germany, 2013). Her work was included in the 30th Bienal de São Paulo: The Imminence of Poetics (São Paulo, Brazil 2012), Athens Biennial: AGORA (2013) and, in 2015, Photo Poetics at the Solomon R. Guggenheim Museum in New York. She is a recipient of a 2008 NYFA Fellowship in Photography.

Matthew GREGORY was born in Suffolk, in 1984. His poems have appeared in magazines and anthologies since 2005 and he has collaborated with artists in Naples, Berlin and Frankfurt on installations and film. He received an Eric Gregory award in 2010 and a Hawthornden Fellowship in 2014.

Eley WILLIAMS has had work appear in The White Review, Ambit and 3:AM Magazine. A former Visiting Lecturer at Royal Holloway, University of London, she has twice been shortlisted for The White Review Story Prize and has a collection forthcoming from Influx Press. She also edits jungftak, a journal of contemporary prose-poetry.

Jess COTTON is a writer living in London. She writes mostly about poetry.

Mat RIVIERE has released (several) albums of music.