MICHÈLE BERNSTEIN
HAS FORGOTTEN
TO DIE

& (in lieu of an interview)
a film called
ON THE PASSAGE
OF MICHÈLE BERNSTEIN
THROUGH TIME
Clodagh
KINSELLA
Anyone who buys THE NIGHT [thank you] and so much as skims it might think that I used to spend my time walking the streets of Paris like the two lovers in the book. Not true. Sure, many a night I used my feet in the company of some extremely bright youngsters, the same youngsters I'd sing and drink with in a shabby little dive [the dive from which everything was to spring later]. But most of the time I was pedalling silently, alone.
—Michèle BERNSTEIN
Translated into English for the first time from LA NUIT (1961) by Clodagh KINSELLA, THE NIGHT is the second novel by Michèle BERNSTEIN, a founding member of the Situationist International, and recently published in a second edition by BOOKWORKS (London). Following ALL THE KING'S HORSES, it was also written for cash, and again cannibalises the plot of LES LIAISONS DANGEUREUSES, featuring the same characters as her debut: Gilles, Geneviève, Carole and Bertrand. The story remains the same, but the book is different, this time parodying the style of the nouveau roman, with its elongated sentences and non-linear sense of time and place. As its protagonists drift through the streets of Paris, through the entanglements of a ménage à trois, and the ennui of a summer holiday on the Côte d'Azur, THE NIGHT is littered with détournements—unattributed quotations and knowing winks at situationist practices—and clues that give insight into the lives and spirit of both the author and her husband, Guy DEBORD.
Following BOOKWORKS' reissue of THE NIGHT, HOTEL invited KINSELLA to interview BERNSTEIN for the Archive; in place of that conversation (and as a testimony to the generosity of BERNSTEIN's glorious recalcitrance) see below for an original filmwork by KINSELLA (shot on location in the fifth and six arrondissements of Paris, the setting for THE NIGHT's narrative), and below that for an accompanying text by KINSELLA ...
ON THE PASSAGE
OF MICHÈLE BERNSTEIN
THROUGH TIME
MICHÈLE BERNSTEIN
HAS FORGOTTEN
TO DIE
I HAVE FORGOTTEN TO DIE
, Michèle Bernstein tells me over the viral winter of 2020, when we plan to meet in Normandy but never do. The problem is not with her memory: she quotes verbatim her book reviews for
Libération
, where she was a literary critic forty years ago. She can remember minor details about others who themselves forgot not to die and, at eighty-nine, has become the de facto guardian of the Situationists' legacy.
After co-founding the Situationist International and before leaving it, in 1967, she wrote two anti-novels which are considered as skeleton keys to unlock both the movement, most famous for fuelling the student uprisings of May 1968, and her libertine life with her first husband Guy Debord. Both books cannibalise the plot of
Dangerous Liaisons
: the first,
Tous les chevaux du roi
(1960), is a parody of Françoise Sagan-style '50s romances;
La Nuit
(1961) is a weirder riff on the weirder Nouveau Roman.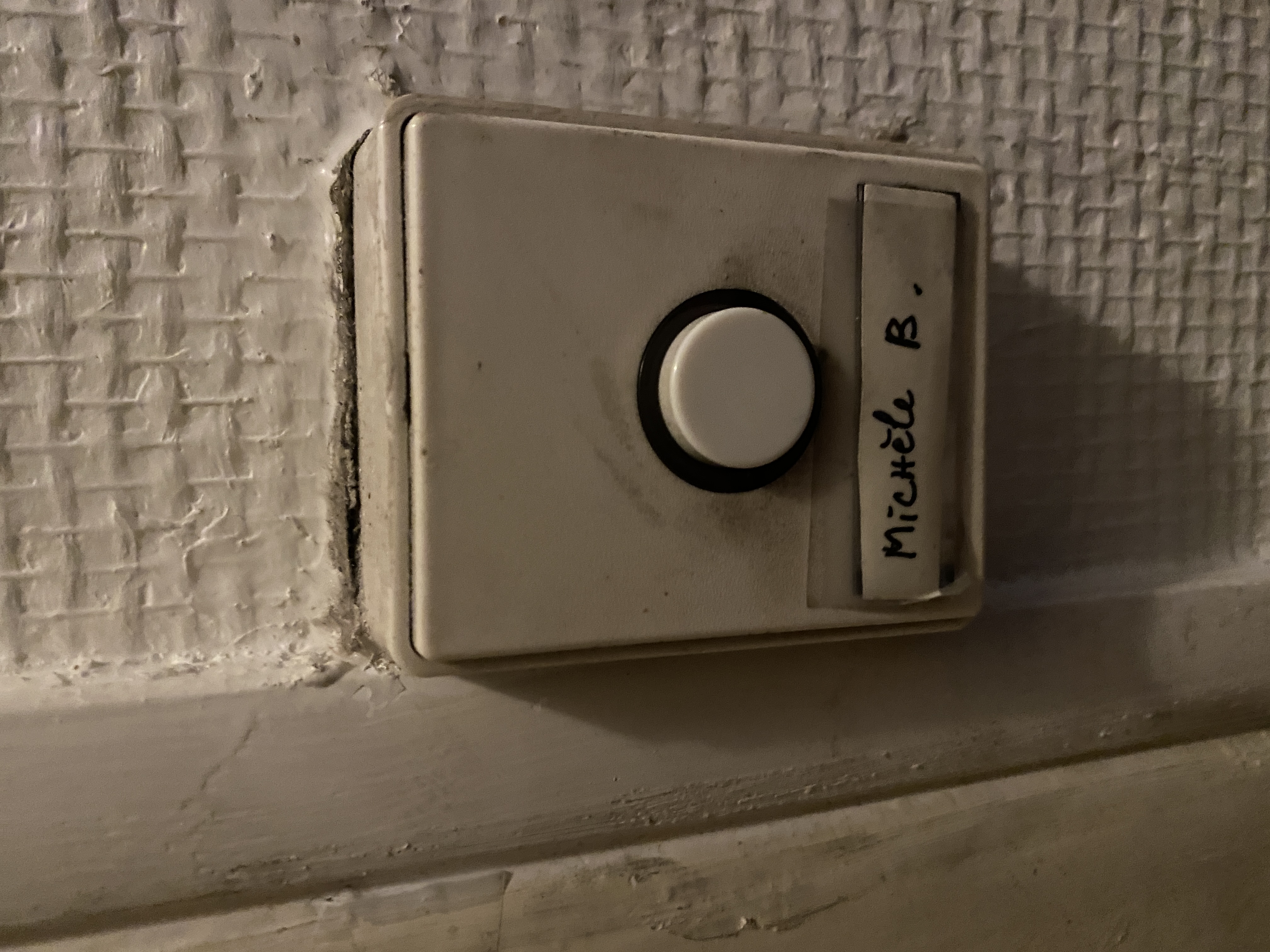 As with many women in her circle at the time, who supported their idle-yet-ideal male partners, she happily lived in defiance of the famous Situationist slogan
Ne Travaillez Jamais
('Never Work'). After the novels, written when she was in her late twenties, she held down a successful career in advertising (something she felt made capitalism more obvious, but wasn't its main problem) until she couldn't tolerate the hierarchy. Later came the
Libération
stint, her longest job, though she shunned the bourgeois literary world. Meanwhile, having divorced Debord, she moved to blue-stocking Salisbury, married English Situationist artist Ralph Rumney, rode her bicycle about, and continued to adamantly take the other way round. In 2004, when her first novel was reissued by Éditions Allia, her links to Debord and the Situationists were finally rediscovered. But she has never really emerged from the shadows. She has preferred to stay clandestine.
As winter turns into spring, we talk on the phone, when her over-zealous Orange answering machine permits it. Sometimes, when it's in a more expansive mood, the phone rings on and on and on. Michèle tells me to let it ring forever so she has sufficient time to make the voyage. I hang on the line, like Carole in
The Night
, like the lover who becomes ludicrous but does it anyway, because that's her allotted role. We are trying to meet so I can interview her, either in the future or now. She agrees to an interview in the future tense when I won't kill her. Sporadically her
femme de ménage
goes viral (or is suspected of such, then doesn't have it, then isn't suspected, and does).
Michèle lives in a hamlet outside a small village full of
bons normands
who have no idea of the radical vortex in their midst. She detests the architecture of the house whose windows are too large. It depresses her to live in a place that is ugly; after 20 years, she has made peace with it. Confined to these quarters, she receives provisions from a neighbour, who leaves a basket by her door. It's all attractively underground. I ask if I can do anything.
You can call me 'tu'
. The next time we speak, disconcertingly, she calls me 'vous,' probably just for kicks. We're back to 'tu' by the next exchange.
Why would you want to interview me, you already know everything
. It's possible that I would like to do it to redress the imbalance of power between us. Michèle terrifies me, as a novelist ought to terrify their translator. I have haunted her words, sentences, the sharp cast of her thoughts. When I translated
The Night
, I fell into her cadence. This licensed transgression/act of ventriloquism implies an intimacy behind which our actual relation lags. In
After the Night
, the détournement of
The Night
I co-authored with the collective Everyone Agrees, I had her call my translation a 'dead fish,' pre-empting her imagined disappointment, which never came. She found it all very amusing.
I've been walking in her footsteps since reading
La Nuit
. One freezing night, in 2013, alongside my collaborator Erik Hartin, I retraced the Paris walk at its heart wearing a last-minute muff and fur coat from a charity shop. It rained, we drank
kirs québécois
, and ended up taking refuge from the rain at a police station. Where was the beach beneath?
Paris is a labyrinth, but only if you use it as one
. I decided long ago to use it as a labyrinth, or else it's only Starbucks, lovers' padlocks, the whole spectacle. Later, for
After the Night
, we walked a superimposed version of her route on the streets of east London. The ultimate anti-dérive. Again, I am intently drifting in Michèle's Paris.
The following facts are all true:
MICHÈLE KEPT MAY '68 IN CIGARETTES.

HER WRITING KEPT THE SITUATIONISTS IN MEZCAL.

SHE WROTE HORSE HOROSCOPES.

SHE IS 295 YEARS OLD.

HER NOVELS WERE JOKES.

In
The Night
and on the phone Michèle quotes the eleventh century Persian assassin Hassan-i Sabbāh.
Nothing is true. Everything is permitted
. It seems to perfectly mirror her ludic nature, to provide an antidote to the society of the spectacle, where the perception of reality is an illusion, and the only way out of the trap is to outgame it, to create situations that liberate everyday life. Months later I quote the phrase again and ask if it applies to the reams of literature dedicated to the Situationists.
Who said that?
she says
. I did not say that. Some things are definitely true; others are not.
It is, alas, UNTRUE that Michèle wrote horoscopes for horses, as per the much-loved myth; she wrote horoscopes—and martingales—for a horse-racing newspaper, which is almost as strange, especially given her lack of interest or expertise in the equine.
It is UNTRUE that she always knew what was afoot with the SI and licensed every expulsion. And it is TRUE that things that she didn't know then, she knows now.
She has already said everything there is to say, she says.
I am an orange that's already been sucked
. A confirmed Anglophile, she has a passion for English tea—and punk, probably made possible by the Situationists. The first time she invoked Johnny Rotten—
Joh-nee Lan-don
—it took me half an hour to decipher the victim of her accent.
She smokes as though she is not 295. She speaks and thinks and conducts herself in a way that confirms suspicions that she is, as the sociologist and philosopher Henri Lefebvre once said, the truest Situationist of all. More impressively, against the apparent cynicism of her protagonists, she has an 'aptitude for happiness,' which people have always remarked upon. Anyway, in her books, no one is unhappy for long. They play games, lose the plot, get it back.
It is possible that Michèle Bernstein is too happy to die.
For the Situationists, novels were BOURGEOIS, she says. BOURGEOIS. Age has not mellowed her views on literature, nor fictional bourgeois morals. Paddington is a bastard, she says. A moralist. Winnie the Pooh is better: he lives a free life. She hasn't heard of The Wombles, but possibly they are not even bears, though they do live long lives, like her.
In order to read, Michèle now requires a
loupe
(magnifying glass). After half an hour of staring at the hyper-inflated characters, she begins to see red and blue shapes. Sometimes, midway through a sentence, she deduces from the surreal turn of events that she must have misread a paragraph and is forced to retrace her steps.
CHEMISTS ARE OFTEN TERRORISED
is one recent line that prompted an abrupt volte-face; another,
LIBERAL JEWS OFTEN SHARE ORIFICES BETWEEN MEN AND WOMEN
. Michèle is still détourning books at 295 years old.
Sometimes she spends hours trying to find a word that's on the tip of her tongue. Even idiotic words.
It's idiotic
.
Subjects such as gender cause her to celebrate the fact that she is 295.
When she talks about Guy Debord,
jamais
Guy, it is with the authority of one who loved and contradicted him, who was his co-conspirator, even relinquishing prospective profits from her proposed third novel to get his most famous work published; who has so far outlived him by a quarter of a century—long enough to see his ideas colonised, to see him become a national treasure. Her hidden influence on both Guy Debord and the Situationists remains an enigma which neither she nor her books have really unlocked. It is TRUE that she has resisted the spectacle more successfully than Guy Debord.
It is also TRUE that she is as lazy as a grass snake. This is the reason she gives for not writing the mooted third novel, which was supposed to be a comic—and, because she was lazy, another riff on
Dangerous Liaisons
. At the same time, it's the case that she's the most relentless near nonagenarian anyone has ever met, if they are fortunate. I know that she has successfully drunk me under the table.
Because she has forgotten to die, she has already outlived a celebrated biographer who was on her trail, keen to wrest her from the shadows.
Why would anyone be interested
?
When, finally, we construct a situation in which to meet, it is where, according to a plaque, Simone de Beauvoir once lived, near the Jewish section of Montparnasse cemetery. Michèle, who descends from Russian Jews, has never been the second sex. She says that she decided as a teenager to treat boys as they treated other girls.
She speaks for hours and hours. Cigarettes are lit; tea is poured; the telephone rings and is answered. Before a map of Paris, every arrondissement but the fifth and sixth is disregarded, as surplus to purpose.
To listen to Michèle is to enter a labyrinth, its walls composed of references to persons (mostly) dead, and never explained, as though one already has the secret, is part of
la tribu
(tribe). To speak to her is to become a translator or get lost. The shibboleth being to understand. Notes jotted, novels to read. The biblical origins of idioms, the placement of forks, unattributed quotes. The loathsomeness of literary TV-show hosts. To not know where you're going, to dérive into another time. A time when you could be a medieval knight, a troubadour, on the cusp of changing everything.
Boredom is a mortal sin
.
Clodagh KINSELLA wears many hats. She is a writer, journalist and translator who embodies the continental drift.