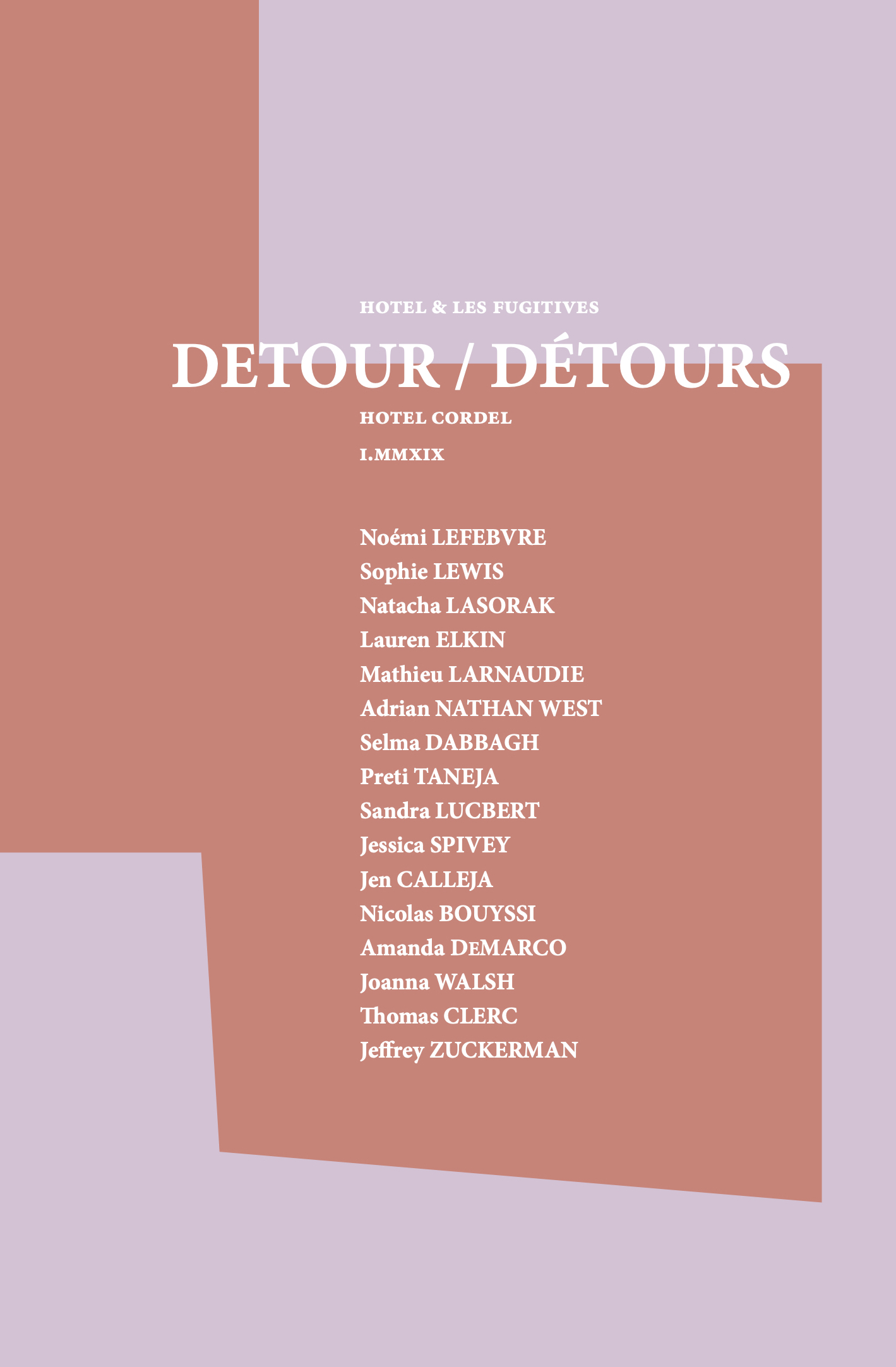 PREAMBLE—'Questions of Worth,'
Noémi LEFEBVRE,
translated by Natascha LASORAK & Sophie LEWIS;
'Silent B'
Lauren ELKIN;
'A Problem of the Greek Type'
Mathieu LARNAUDIE,
translated by Adrian Nathan WEST;
'Emotional Debt / Speed of Recovery Matrix'
Selma DABBAGH;
'Debt Night'
Preti TANEJA;
'The Pastoral Calculation'
Sandra LUCBERT,
translated by Jessica Spivey;
'The Debt Collector'


Jen CALLEJA;


'Unknown Soldier,'
Nicolas Bouyssi,
translated by Amanda DeMARCO;
'Good Relations,'
Joanna WALSH;
'Out of Debt,'
Thomas CLERC,
translated by

Jeffrey ZUCKERMAN
DETOUR/DÉTOURS
A Limited Edition of 300;
(Ed.) Emmanuel BOUJU, Dominic JAECKLE & Cécile MENON
Designed & Typeset by Niall REYNOLDS



A collaboration between HOTEL;
LES FUGITIVES;
& THE INSTITUT UNIVERSITAIRE de FRANCE
DETOUR / DÉTOURS—the first collection in the Hotel Cordel series, and co-published with the independent press Les Fugitives—gathers together a set of specially commissioned texts and translations that readdress our various definitions of debt. Detour/Détours imagines debt as a language game: as a broken pun; a break in a journey; a play on value and the meaning of money as it changes hands. Or in terms of Guy Debord's détournement—as a debt reimagined through the integration of old works into something new.

The word debtor owes etymologically to the old French deteur. But—moving into English—its first appearance dates back to the early 13th century and— sounded out as dettur, dettour or detour—debt can be read as an elaboration on the mottled intimations of a detour with a little poetic license. A detour is a deviation, a digression; a play on our various senses of direction. Exploring the will, want or need to take the long way around—and seeking to bastardise and scrutinize our relationship with (and conceptualisation of) a statement of debt—here we have a set of searching works that critique all our methods of repayment.

Participating authors were given free rein to produce a piece of writing in response to these ideas, and the works included herein—five first English-language translations and five original texts—wind their way around the weight of the word 'debt' in ten attempts to reroute its meaning.