Clare AZZOPARDI
11½ FRAGMENTS
AGAINST ISOLATION
Translated from the Maltese
by Albert GATT
An excerpt from
SCINTILLAS :
NEW MALTESE WRITING #1
1.
a brief flirtation early every morning on our walk
between two valleys
you approaching me, I you
we never lingered
not for a single moment
but how I longed to tell you how
your lightning glance filled my locked-up days
for the duration
2.
I dreamt so many times of you taking the stairs full tilt
getting into your car
slamming the door shut
starting leaving arriving at mine

and in the middle of the night one time I awoke
my body somehow other
giving off a whiff of drowse
I went downstairs opened the door

onto your gaze
in the quiet
of alley number 11

hesitantly we reached out
until our palms met
for 11 seconds
and a half

exactly

3.


I wasn't sure, should I disinfect them?
I wasn't sure, should I let them stand?
a day or two or three
I looked into this riddle long and hard
now these, now what?

look
this much I do know: if you whatsapped me your voice
I wouldn't need to rinse it air it let it stand
a day or two or maybe more
so send word
give me something to listen to
in the solitude
of the coming winter

4.
confined, my voice has aged a bit
when one of my students said, you're different today, miss,

your voice sounds wrinkled
then I twigged

5.


You said that white belongs to you. That you would write
it down on milk-white sheets during the long suspicious
nights. Suspicion too is white, you said, like chickpeas,
which can easily mislead if you're not careful. White
belongs to you. The scars on your arms and legs, boiled
rice, foam at the mouth, the ribbons of pigtails bobbing
tiny in the distance, happiness, whispers. You said, Poet,
that you'd dedicate it all to me, the white, to me alone.

So one evening I put on my best white dress for you,
tapped at your living room window, dusted off what
meagre white fragments had caught in my lap. You spotted
me, air-hugged me from afar. Then, when I left, you came
out, gathered the white I'd left behind and wrought it into
poetry for me. Because that's what you, Poet, do, you
write the white, in which I find my solace. Should you ever
run out, I could pluck my hair out for you. Lately it has
whitened quite a bit.

6.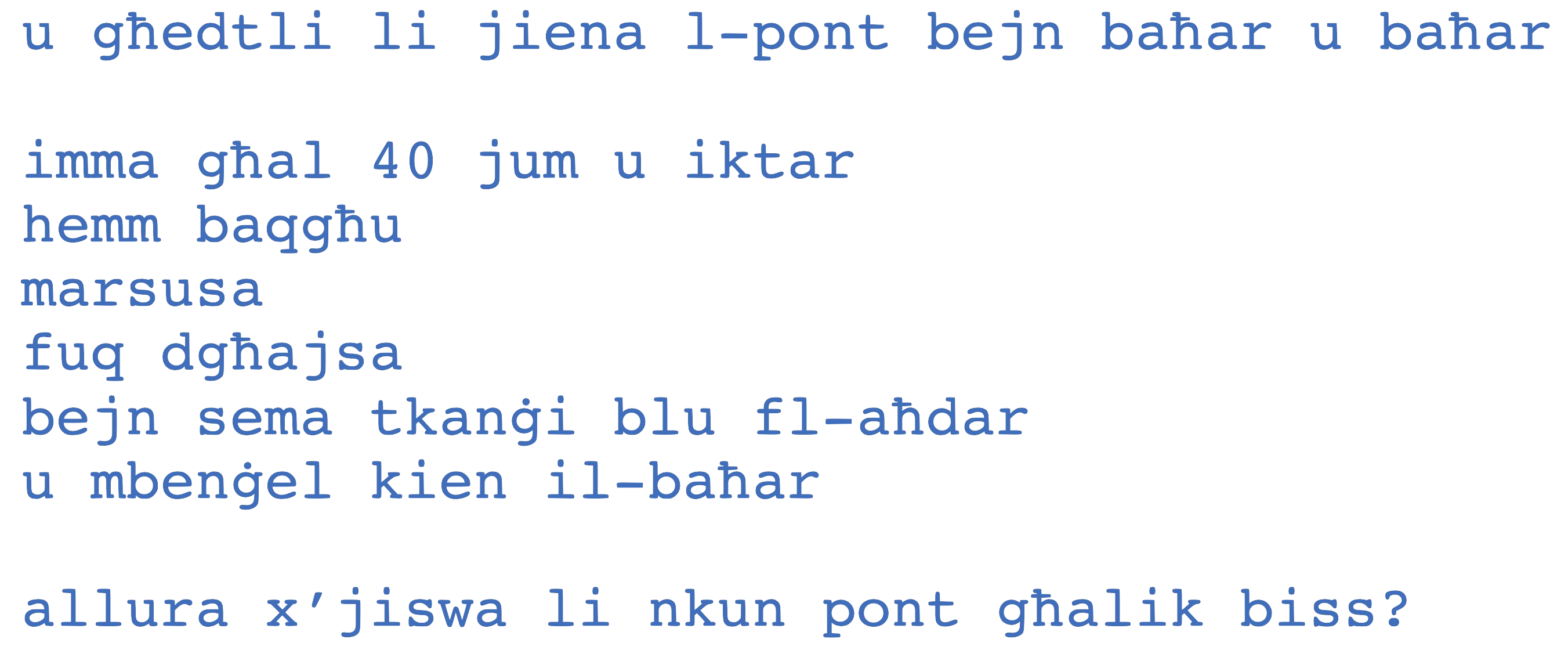 and you said I'm a bridge from sea to sea

and yet for forty days and more
they waited
crushed
inside a boat

between a sky of blue bled into green
and a sea of black and blue

so what's the point of me, the bridge, if crossing's just
for you?

7.
Every day throughout Lent the old woman from across the
street heard four Masses and the space between her four
walls grew heavy with the rosary she recited up to seven
times a day. Between a Mass and a rosary, another rosary
and another Mass, she baked a figolla and sometimes

two. She decorated them with white icing and with pearls
that fell out from between her teeth. When Good Friday
finally arrived she ventured outside barefoot to walk
behind the statue of Christ Crucified, though the statue of
Christ Crucified had not been ventured out. She walked
the streets of the procession all alone. Dragging a chain
attached at both ankles and reciting a litany throughout the
night that reeked of incense. Then she went back home and
slept long and deep.

Three days later, all her figolli were resurrected.

8.
notes after Franco Arminio's decalogue against fear

we loved each other a little more
and I worried I'd fall pregnant
we read a few more books than usual
and I bought more and more for fear there'd be nothing left to read
we took walks through desolate countryside
and were chased away by hunters, so many I lost
count
the words between us faltered
and sometimes I yearned for them but couldn't find
them
we buried ourselves in each other's arms
and the empty space convulsed
9.
fear has become a convenient excuse to forget each other
it works too

10.
In the town where I live, there lived a poet who hadn't
written any poems in a long time. But during her days of
confinement, she garlanded her balcony with a multitude
of verses that she drew from the very depths of her and
they became a poem. One day, a blue rock thrush came
down with his mate and one by one they ripped the verses
loose and dragged them to the peaceful turret on my roof
to build their nest. Now that their hatchlings have flown,
I've climbed up to the nest and sewn the verses in my hair,
a knotted basket,

and come the second wave of this pandemic
I'll go out on my balcony
stand there
awaiting the return

of the blue rock thrush and his mate.

11.
for eleven and a half minutes each day I cried between
eleven thirty and midnight while you snored by my side

that half-
smile on your face
it held my gaze throughout the night
and I have grown to love you a little more.











Clare AZZOPARDI writes for both children and adults. For the past several years, she has been an active member of Inizjamed, an NGO whose mission it is to promote literature in Malta and abroad. Her work has been translated into several languages and her latest book of short stories, KULHADD HALLA ISEM WARAJH, was published in Croatian, Hungarian, Slovenian and Arabic.

Albert GATT trained as a linguist and computer scientist. His academic work focuses on the use of language in artificial (AI) systems. In addition to his research, he has been translating poetry and prose from Maltese into English for several years, and has recently completed a translation of Juann MAMO's modernist classic, NANNA's CHILDREN IN AMERICA (1934).



IMAGE—

Espirit BARTHET,
'Table with Fruit, Bottle and Grapes' (1962)