The Liberated Film Club

*


The Man at the Next Table

Stanley Schtinter

&

Co

.
An anti-curatorial collection of interruptions and introductions to a supressed and liberated cinema
In 2016,
Stanley Schtinter
's
visionary and antagonistic approach to film programming found its apex in
The Liberated Film Club
, a month-long season of mystery films amassed from his extensive archive of lost and suppressed cinema.
The Liberated Film Club
was held to celebrate
Close-Up Cinema
's first birthday—an anniversary that fell in the days following Britain's vote to leave the EU—and became an important forum for fellow travellers to zone out and zoom in; to talk and love and explore futures past and present. Attendees did not know what the film screening on any given night would be and nor did the guests invited to introduce each film, resulting in a kunstkammer of idiosyncratic speeches and ideas.
John Akomfrah
spoke about hope;
Ben Rivers
spoke about serious drinking;
Tony Grisoni
spoke about Technicolor blue and
Gideon Koppel
made mayonnaise.
A book on the movements of
The Liberated Film Club
will be released in July,
published by Schtinter's
purge.xxx
in collaboration with Close Up in an edition of just 50 copies (see

here

)
.
In exclusive partnership with
Hotel
, the book's introduction by
Stanley Schtinter
—along-with original contributions from
John Akomfrah
,
Andrea Luka Zimmerman
and
Juliet Jacques
—are published here in advance of the launch event at Close-Up on Friday 6th July 2018. For more information on the event at Close Up—and to book tickets—see

here

.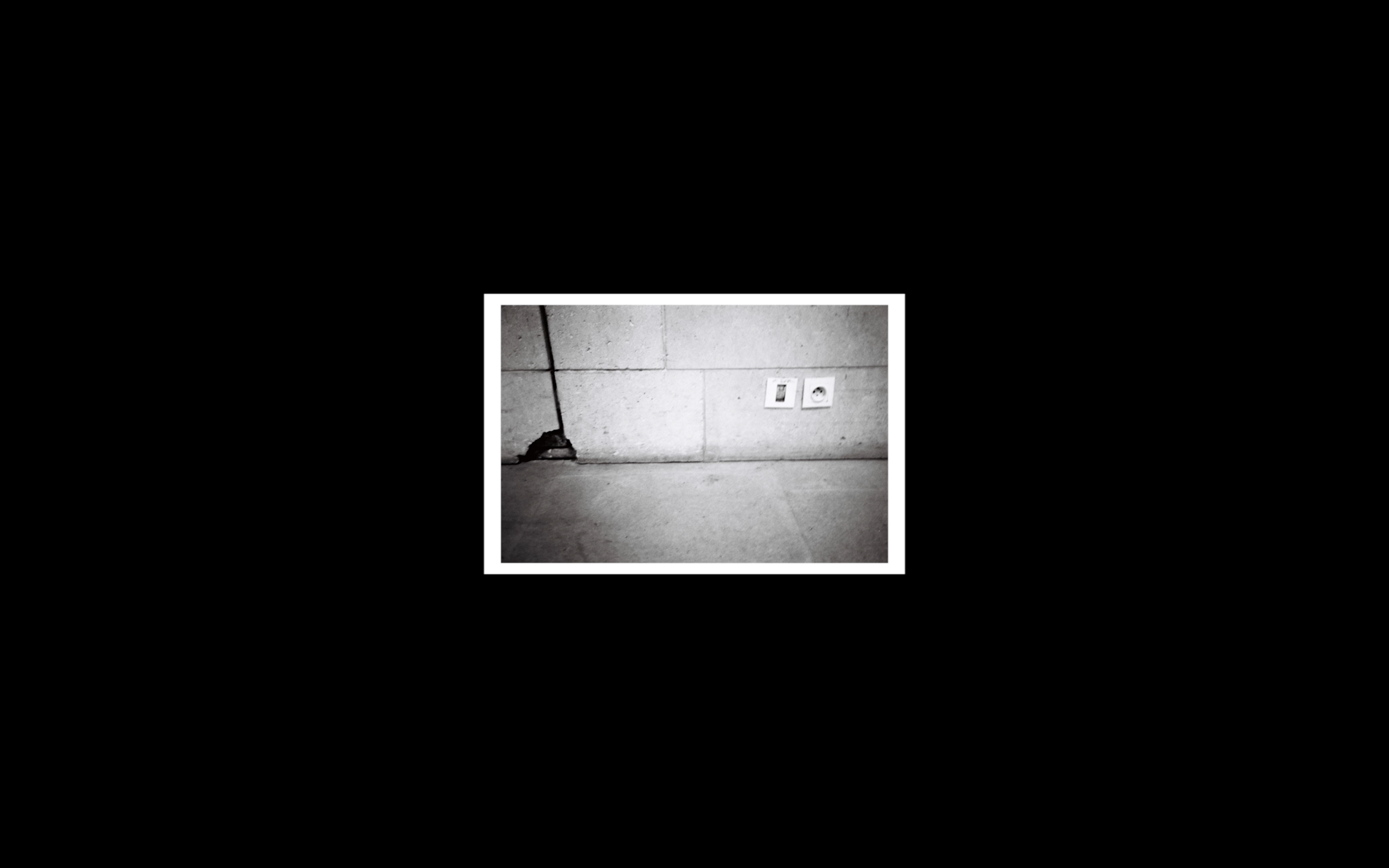 A still from Schtinter's interruptive introduction-to-an-introduction for John Akomfrah's presentation, circa July, 2016

Collated below are two of Schtinter's infamous
Interruptions from the Man At The Next Table
—
introductions-to-the-introductions in a sing-a-long-a-stick-the-knife-in-to-your-staid-and-stolid-curation-and-its-deceptual-source kind of style—that were sent ahead of each screening on the day from a Parisian shithole. These introductions were introduced via video-link by the absent curator, and are published alongside the transcripts of the introductory comments which followed Schtinter's "interuption." They are accompanied by a foreword to the collection from
Schtinter
himself and an afterword by
Jacques
.

1.
Foreword
Stanley Schtinter
,
in introduction
2.
Interruptions
John Akomfrah,
'
Querelle down the Chimney
(
& up the Spout
)'
Andrea Luka Zimmerman,
'
Pirate Buñuel & the Island Dwellers of Google Minus
'
3.
Afterword
Juliet Jacques,

in conclusion

,


'I'm Too Sad to Tell You' (Bas Jan Ader, 1971)




&

'I'm Too Sad to Tell you about 'I'm Too Sad to Tell You'



* "This programme was dedicated to John Krish."



S.S.
Stanley Schtinter is an artist and curator of liberated film. Hotel Bardo, Schtinter's most recent project, was dubbed by writer Iain Sinclair "the last avant-garde anti-project at the end of time."

John Akomfrah is an artist and filmmaker, whose works are characterised by their investigations into memory, post-colonialism, temporality and aesthetics and often explores the experiences of migrant diasporas globally. Akomfrah was a founding member of the influential Black Audio Film Collective, which started in London in 1982 alongside the artists David Lawson and Lina Gopaul, who he still collaborates with today. Their first film, Handsworth Songs (1986) explored the events surrounding the 1985 riots in Birmingham and London through a charged combination of archive footage, still photos and newsreel. The film won several international prizes and established a multi-layered visual style that has become a recognisable motif of Akomfrah's practice. Recent works include the three-screen installation The Unfinished Conversation (2012), a moving portrait of the cultural theorist Stuart Hall's life and work; Peripeteia (2012), an imagined drama visualising the lives of individuals included in two 16th century portraits by Albrecht Dürer and Mnemosyne (2010) which exposes the experience of migrants in the UK, questioning the notion of Britain as a promised land by revealing the realities of economic hardship and casual racism. In 2015, Akomfrah premiered his three-screen film installation Vertigo Sea (2015), that explores what Ralph Waldo Emerson calls 'the sublime seas'. Fusing archival material, readings from classical sources and newly shot footage, Akomfrah's piece focuses on the disorder and cruelty of the whaling industry and juxtaposes it with scenes of many generations of migrants making epic crossings of the ocean for a better life. Vertigo Sea has as its narrative spine two remarkable books: Herman Melville's Moby-Dick (1851) and Heathcote Williams' epic poem Whale Nation (1988), a harrowing work which charts the history, intelligence and majesty of the largest mammal on earth. In 2017, John Akomfrah unveiled Purple, an immersive six-channel video installation addressing climate change and its effects on human communities, biodiversity and the wilderness. More recently, Akomfrah debuted Precarity at Prospect 4 New Orleans. Through archival imagery and newly-shot footage, Precarity follows the life of forgotten New Orleans jazz singer Buddy Bolden. The film will travel to the Nasher Museum of Art at Duke University in March 2018.
Akomfrah lives and works in London. He has had numerous solo exhibitions including Nasher Museum at Duke University, Durham, DC, USA (2018); SFMOMA, San Francisco, CA, USA (2018); Museo Nacional Thyssen-Bornemisza, Madrid, Spain (2018); Barbican, London, UK (2017); Talbot Rice Gallery, Edinburgh, UK (2017); The Ian Potter Museum of Art, Melbourne, Australia (2017); Whitworth Art Gallery, Manchester, UK (2017); University of New South Wales, Paddington, Australia (2016); Turner Contemporary, Margate, UK (2016); The Exchange, Penzance, UK (2016); Nikolaj Kunsthal, Copenhagen, Denmark (2016); STUK Kunstcentrum, Leuven, Belgium (2016); Arnolfini, Bristol, UK (2016); Bildmuseet Umeå, Sweden (2015); Eli and Edythe Broad Art Museum, Michigan, USA (2014); Tate Britain, London, UK (2013-14) and a week long series of screenings at MoMA, New York, USA (2011). His participation in international group shows has included: Prospect 4, New Orleans, LA, USA (2017); 'Restless Earth', La Triennale di Milano, Milan, Italy (2017); 'Unfinished Conversations', Museum of Modern Art, New York City, NY, USA (2017); 'The Place is Here', Nottingham Contemporary, Nottingham, UK (2017); 'The 1980s: Today's Beginnings?', Van Abbemuseum, Eindhoven, The Netherlands (2016); 'British Art Show 8' (2015-17); 'All the World's Futures', 56th Venice Biennale, Venice, Italy (2015); 'History is Now: 7 Artists Take On Britain', Hayward Gallery, London, UK (2015); 'Africa Now: Politcal Patterns', SeMA, Seoul, South Korea (2014); Sharjah Biennial 11, Sharjah, United Arab Emirates (2013); Liverpool Biennial, UK (2012) and Taipei Biennial, Taiwan (2012). He has also been featured in many international film festivals, including Sundance Film Festival, Utah, USA (2013 and 2011) and Toronto International Film Festival, Canada (2012).

Andrea Luka Zimmerman is an artist, cultural activist and filmmaker. Andrea grew up on a large council estate and left school at 16 and after moving to London in 1991, studied at Central Saint Martins for a PhD. Andrea is the co-founder of the artists' collectives Vision Machine and Fugitive Images and was the winner of the Artangel Open Award 2014 for the collaborative feature Cycle with Adrian Jackson (Cardboard Citizens).
Zimmerman's films have been nominated for the Grierson Award, The Aesthetica Art Prize, the Golden Orange, the Jarman Award, and the Glashuette original documentary award at the Berlin Film Festival (2017). Exhibitions and projects include Civil Rites, Tyneside Cinema Gallery, Newcastle, UK, (2017/18) Common Ground, Spike Island, Bristol (2017), Real Estates (co-curated with David Roberts), PEER with LUX, London (2015).
Zimmerman's films include Erase and Forget (2017, 88mins) an inquiry into the nature of human conscience and the limits of deniability, which premiered at the 2017 Berlin Film Festival and in the UK at the London Film festival. Estate, a Reverie (2015, 83mins) tracks the passing of the Haggerston Estate in East London and the utopian promise of social housing it once offered, with a spirited celebration of extraordinary everyday humanity. Taskafa, Stories of the Street (2013, 66mins) explores resistance and co-existence through the lives of the street dogs of Istanbul and is voiced by John Berger.
Zimmerman has made several commissioned short films for Film & Video Umbrella, Channel 4's Random Acts and Tintype Gallery. Andrea is also a founding member of Vision Machine (collaborators on Academy Award nominated feature documentary The Look of Silence).

Juliet Jacques has published two books, Rayner Heppenstall: A Critical Study (Dalkey Archive Press, 2007) and Trans: A Memoir (Verso Books, 2015). Juliet's short fiction has appeared in Five Dials, The London Magazine, Berfrois and elsewhere, whilst her journalism and criticism has featured in The Guardian (for whom she documented her gender reassignment in her Transgender Journey series of 2010-12), Frieze, Sight & Sound, London Review of Books, Wire and numerous other publications and websites. She was included on the Independent on Sunday's Pink/Rainbow List of influential LGBT people in 2012, 2013, 2014 and 2015, and was invited to speak at the PEN International Congress about LGBTQI freedom of speech in 2014. She was runner-up in the Polari First Book Prize in 2016 (for Trans: A Memoir) and was longlisted for the Orwell Prize in 2016.


2018